Rooted

in tradition, yet constantly seeking innovation, Soul & Spirits is a passionate craft brewery that calls Memphis, Tennessee home. We produce magical beers inspired by the soulful music that has come from this region, and our spirit lies in discovery and exploration.

Created in the "Home of the Blues & the Birthplace of Rock n' Roll," music runs deep in our veins. Our beers are inspired by songs; written by, performed by, or featuring musicians from the Memphis area and greater Southern region. Each beer is merely a prelude of the journey to uncovering a treasure trove of authentic music. We take no shortcuts to toast the Queens & Kings of Memphis. Soul & Spirits invites you to tune in to our diverse array of beers on rotation. Cheers!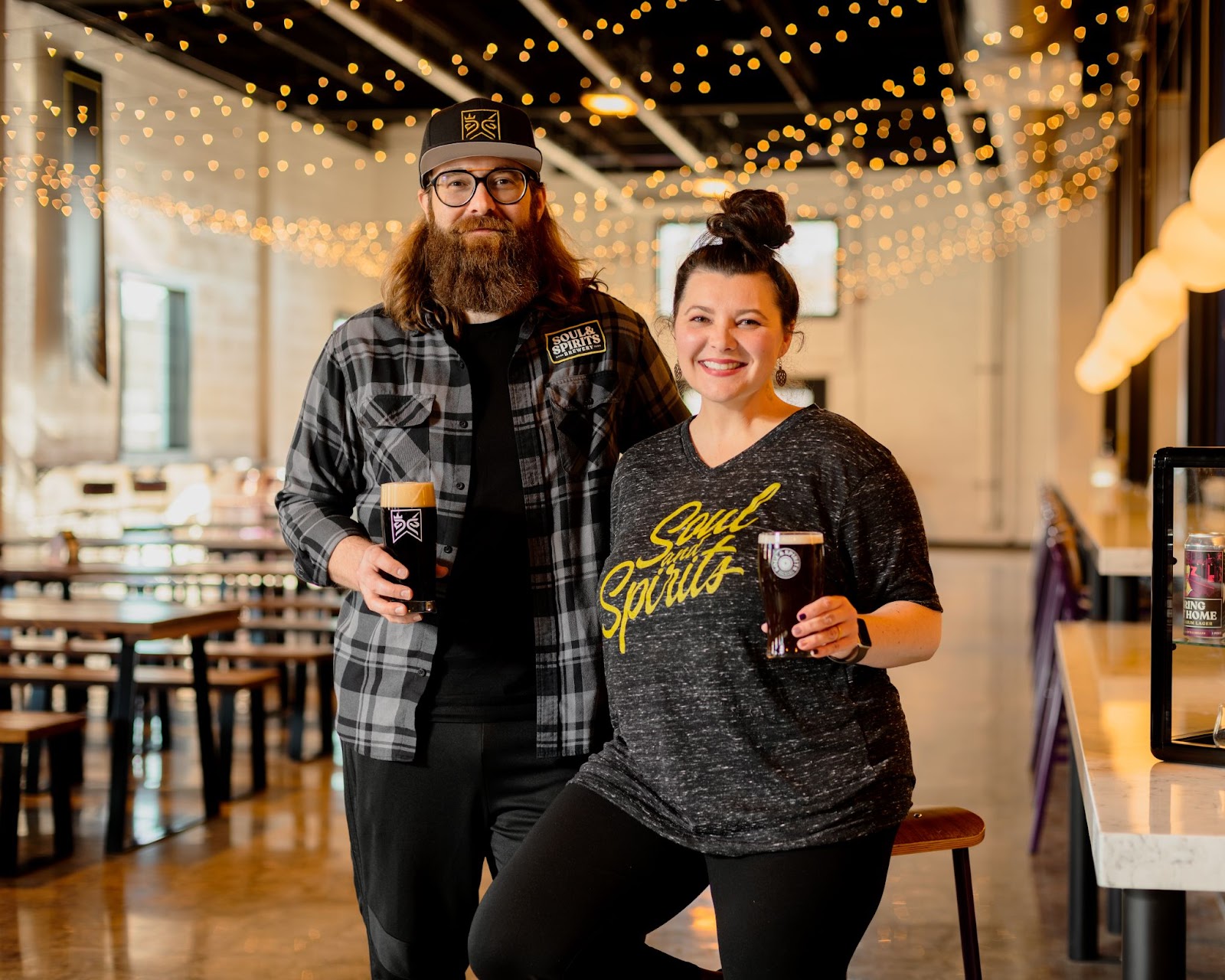 Every brewery begins with a story, but Soul & Spirits began as a love story, not just between two people, but from a taste of beer in a far away land. Ryan's visit to the motherlands of all beer, Germany and the Czech Republic, would launch an obsessive home brewing pursuit to recreate those first lagers, which then evolved into a career with Ryan pursuing his Master Brewer Diploma from Munich, Germany and naturally, obtaining his Advanced Cicerone certification. Blair's encouragement throughout the process helped to bring the idea of opening their own brewery into a reality, not far from her hometown across the Mississippi river. A passion for beer is an understatement for these two; brewing, tasting, reading and traveling to other breweries around the world, Ryan & Blair are always exploring and educating themselves about this industry to share with their loyal Soul Mates.
The name, Soul & Spirits, was inspired by a quote from German professor at Weihenstephan, Anton Piendl, stating "Malt is the soul, hops is the spice, yeast the spirit and water the body of beer." The brewery logo, a lion and a unicorn, is the depiction of these two founders in animal form. Ryan, where German ancestry runs through his soul, also a very strong Leo, is shown as the lion. Blair, with Scottish ancestry running through her spirit, is a land full of magic and where the unicorn is actually the national animal! Bringing the two together, also pays homage to their combined English ancestry, where the Lion and the Unicorn is the symbol for the United Kingdom.
Built by two people and their love of beer, music and for each other; together they create, Soul & Spirits, a place where well-crafted, authentic, and diverse beers cultivate a community of craft enthusiasts.