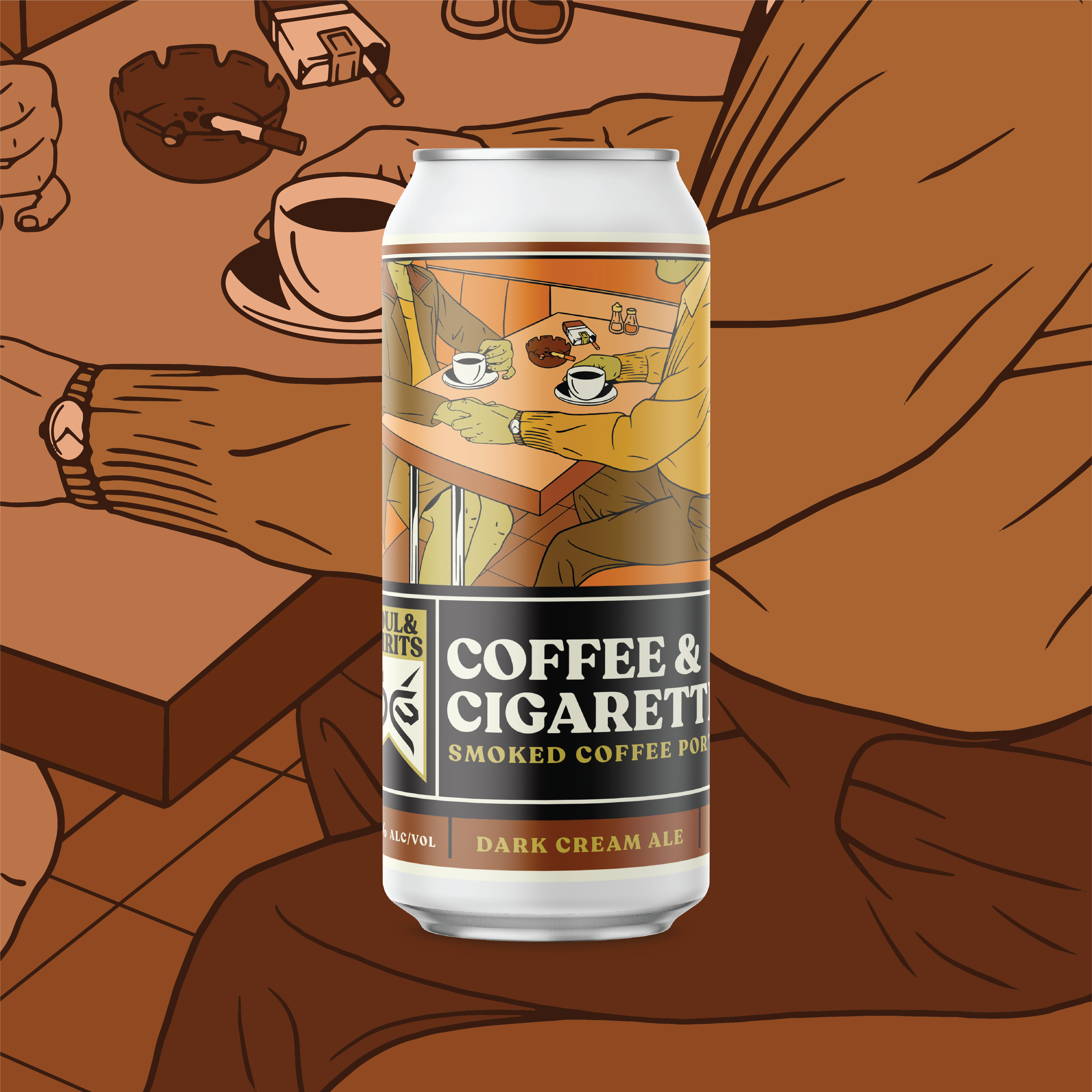 Coffee & Cigarettes
Smoked Coffee Porter
|
6.8% ABV
Inspired by "Cigarettes & Coffee" Otis Redding
Our Winter seasonal is a Smoked Coffee Porter; the porter base gives roasted chocolate characteristics and then with added pecan smoked Tennessee grown malt to give our dark beer a tobacco like aroma. Local coffee from our friends, Dr. Bean's Coffee Roasters, is infused multiple times during the brewing process to give this beer an added caffeine boost and hints of bing cherries. Lactose is also added to give Coffee & Cigarettes a sweet, smooth body that resembles coffee with cream. This ale will remind you of a yummy Bavarian cream donut, sweet and creamy, paired with a fresh cup of coffee, rounding out the finish rich and robust. Just like your early morning cup of coffee, you might not be able to drink just one.
Food Pairings: Prime Rib • Fondue • Breakfast for Dinner
---
"CIGARETTES & COFFEE" Otis Redding
Recorded at Stax Studios, 1965-66
Steve Cropper has said that this song, "Cigarettes & Coffee," was one of Redding's hidden gems. Released on his fourth studio album, THE SOUL ALBUM, recorded at Stax Studios and backed with their celebrated house band – Booker T. & the MGs, Isaac Hayes and the Memphis Horns, this smokey soul song, follows its protagonist enjoying coffee and cigarettes with his love at nearly 3 am in the morning, and there is no where else he would rather be. Jerry Butler penned the song but did not record it; it was actually released in 1961 by Texas soul singer, Al "TNT" Braggs, who is best known as the songwriter of "Share Your Love With Me" sung by Aretha Franklin; but got very little attention until Redding released it 5 years later. Otis Redding would only record and release two more albums before his untimely and tragic death.