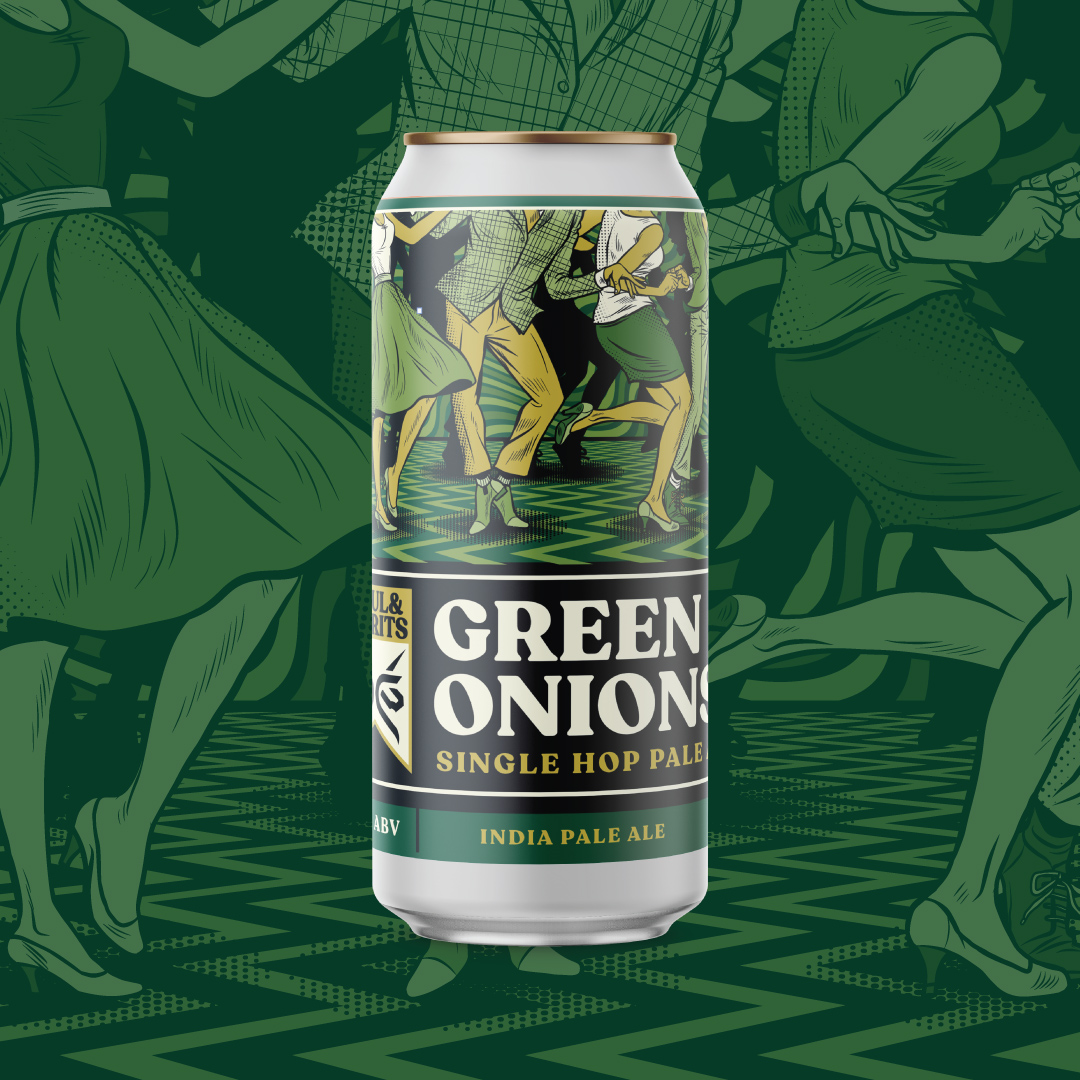 Green Onions
Hop Exploration IPA
|
6.0% ABV
Inspired by "Green Onions" Booker T. & The MGs
Our Hop Exploration IPA is a rotating hopped ale that will showcase one hop at a time, or a combination of two hops. The brewers are getting to experiment with specific hops or hop combos for this IPA, which are designated on the can or on the board at the taproom. Green Onions has a very bright mouthfeel and a nice refreshing finish. Each version will use the same base, while still hop forward, the foundation of this beer is more malty with a light sweetness, like toffee or shortbread cookies. The hops are used more for aroma and flavor rather than a stark bitterness. Our house yeast provides a melange of peach gummies and tropical fruit flavors that lays a nice base for a variety of hops. So grab a pint, relax and enjoy a flavorful ale, sure to be your next classic on rotation!
Food Pairings: Classic Cheeseburger • La Tur Cheese • Roasted Brussel Sprouts
---
"GREEN ONIONS" Booker T. & The MGs
Recorded at Stax Studios, 1962
Written by Booker T. at the age of 17, although during the studio recording it was largely improvised, was the debut single of Booker T. & The MGs. The album by the same name was the first album to be released on the Stax label. It is often described as one of the most popular instrumental rock and soul songs ever and the Hammond M3 organ that Booker played would become a feature of the Memphis soul sound. The song peaked at #3 on Billboard Hot 100 and made it to #1 on the R&B charts for four weeks. The song was actually recorded as a B-side track, but when played by a Memphis DJ, it brought in such a positive response, they decided to re-release it as an A-side. There are many different stories about how the name came about, the first name was Funky Onions, but at the time was thought it sounded like a cuss word, ha, so funky was changed to green, because Jones said it was the nastiest thing he could think of at the time, green onions. The song leaves behind quite a legacy; it is the only instrumental track on the 500 Greatest Songs Of All Time; in 1999, it was awarded a Grammy Hall of Fame; in 2012, it was added to the National Recording Registry; and in 2018, it was inducted into the Blues Hall of Fame.