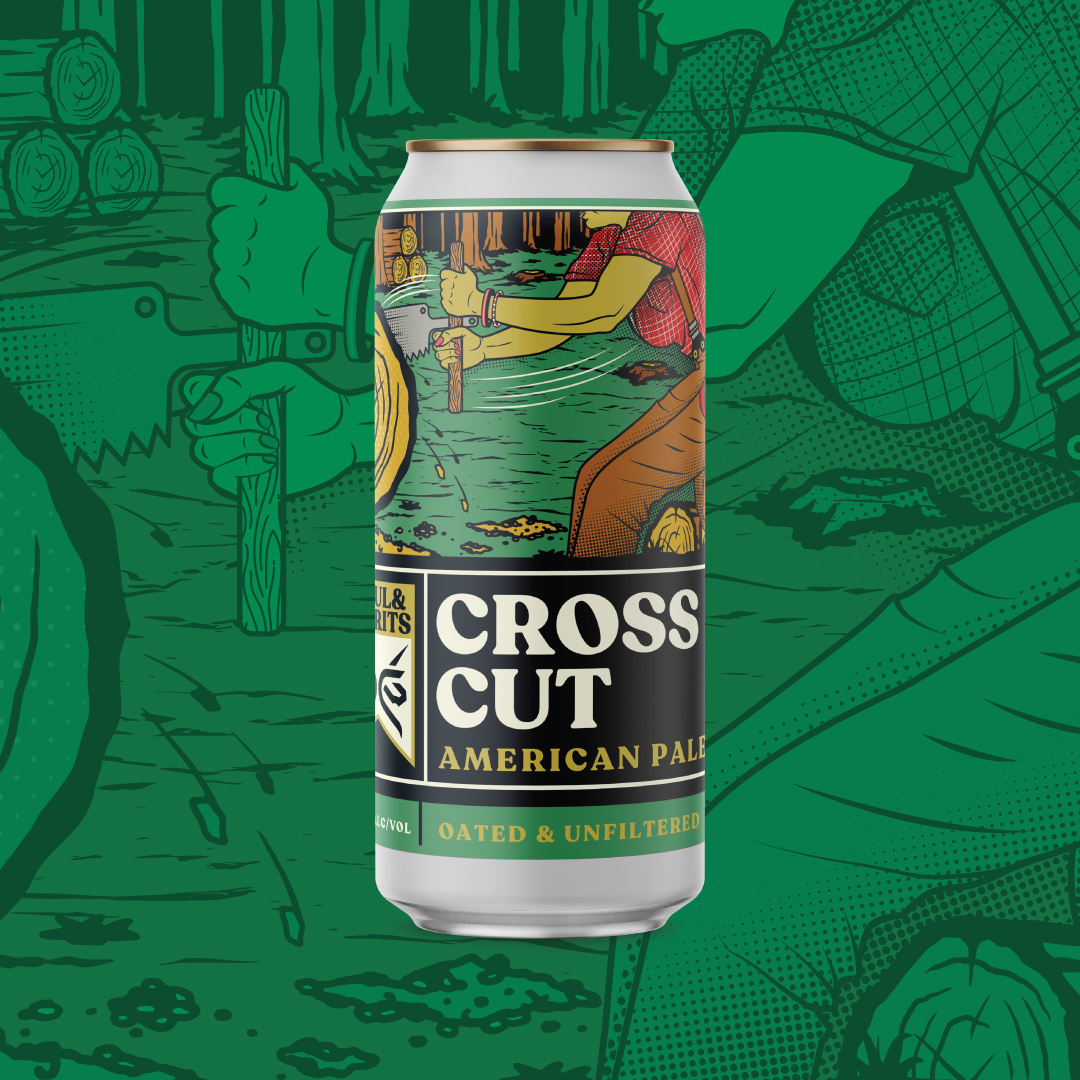 CrossCut
American Pale Ale
|
6.0% ABV
Inspired by "Crosscut Saw" by Albert King
Our American Pale Ale, Crosscut, is unfiltered, highly hopped and packs a bigger punch than most pale ales, that normally have a slightly lower ABV. We decided to make this one just a little higher to really give the hops a chance to shine; a bigger, brighter and more flavorful ale that you can find exclusively in our taproom. We highly oat this beer to give a velvety mouthfeel and bring lots of beautiful haze. Super juicy flavors of tangerine, ripe pineapple, and fresh orchard peaches dominate your palette; with an inviting mango and resinous pine aroma, that makes this pale ale an instant classic. A nod to the true American style of highly hopped ales, but with a very balanced bitterness, and an offbeat oated softness. Don't drag your feet; this one cuts so easily you might just find that one will not be enough!
Food Pairings: Pasta Salad • American Cheddar • Fajitas
---
"CROSSCUT SAW" Albert King
Recorded at Stax Studios, 1966 & 1974
First recorded in 1941, by Mississippi bluesman, Tommy McClennan, as a Delta dirty blues song full of double entendres. It wouldn't be made popular until Albert King's version, which he replaced two verses with guitar solos and used a more Afro-Cuban influenced beat, was released in 1966 on the album BORN UNDER A BAD SIGN and reached #34 on the Billboard R&B charts. Booker T. & the MGs were the house band and Al Jackson, Jr. is credited to bringing King in on the project; the group, Bar-Kays, would later re-record a more funkier version with King in 1974 for the album I WANNA GET FUNKY. The song would be inducted into the Blues Foundation Hall of Fame in 2018 as a classic of blues recording with a complicated evolution that King made popular as a blues standard. King himself was known as one of the "Kings of the Blues" alongside B.B. King and Freddie King. In 1983, he was inducted into the Blues Hall of Fame; the Rock and Roll Hall of Fame in 2013; and is ranked #13 on Rolling Stones 100 Greatest Guitarist of All Time.