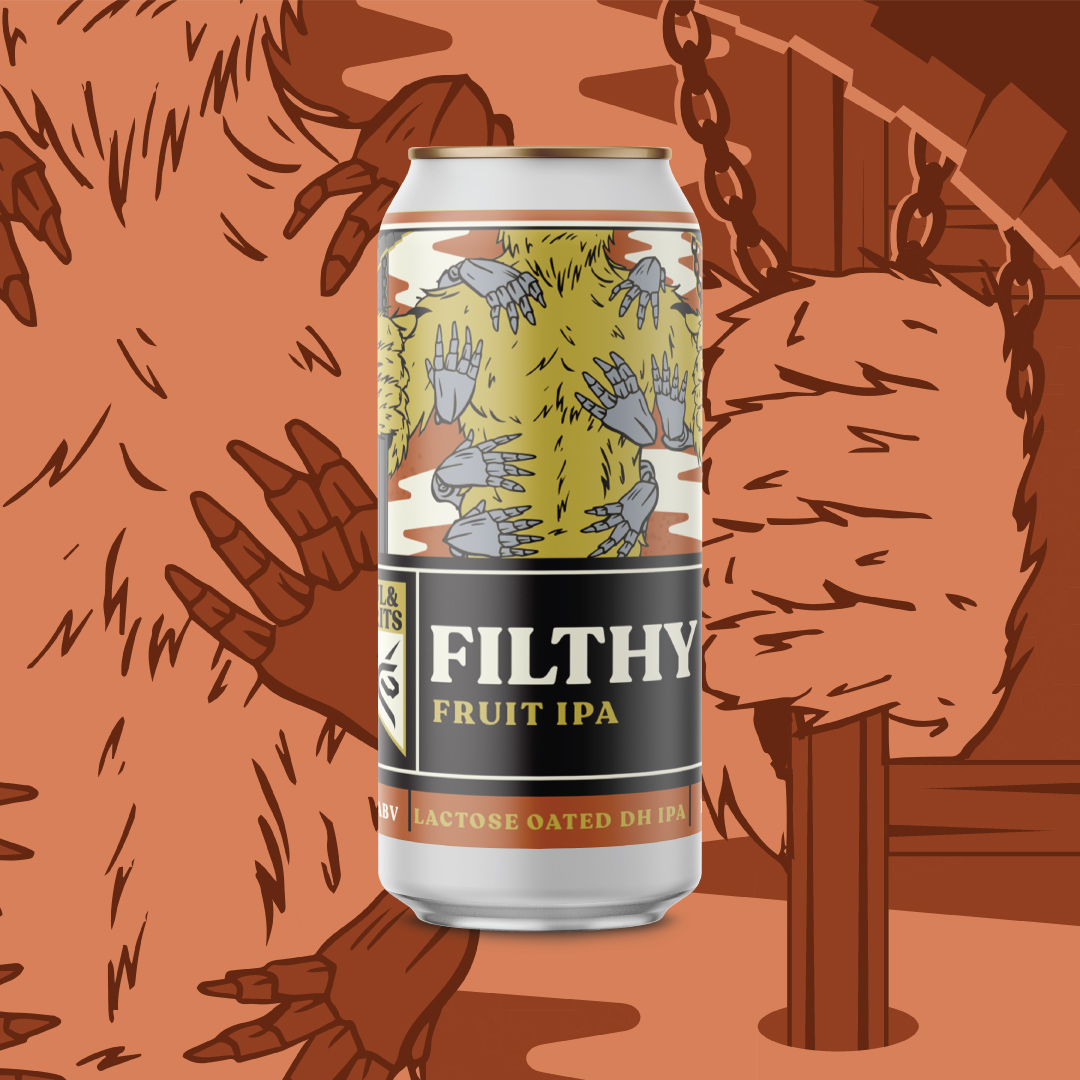 Filthy
Tropical Cream IPA
|
6.8% ABV
Inspired by "Filthy" Justin Timberlake
A Cream IPA is an India Pale Ale that has been brewed with wheat or oats, sometimes both, and lactose which all adds to a silky mouthfeel to the beer. This gives you the "cream," we are not putting actual cream into our beer. We add real fruit (either Pineapple, Mango or Passionfruit) to make it tropical. The added fruit will be shown on the label. Madagascar Vanilla beans are added during conditioning to also give an extra boost of sweet cream flavor. Filthy is like drinking a luxurious vanilla ice cream milkshake with sweet tropical marmalade fruit swirled in. You will not believe your taste buds! The hop blend is chosen to boost more of the tropical flavors with light bitterness, they are paired to match the flavor and aroma of the added fruit. If you know what's good, you will put your filthy hands all over this ale.
Food Pairings: Pork Tenderloin • Burrata Cheese • Pineapple Upside Down Cake
---
"FILTHY' Justin Timberlake 
Recorded at RCA Records, 2018
The lead single from Man of the Woods, "Filthy" is both an electro funk and R&B song. The track opens with guitar licks, and it morphs into a "sleekly" industrial neo-funk number, complete with synth and a "snaking" bassline. Timberlake speaks/sings tongue- in-cheek lyrics during the track, keeping his voice in the middle of mix, the singer and the music remaining equal. "This song should be played very loud," advised Timberlake. Born in Memphis, Justin Timberlake has risen to one of the world's best selling music artists of all time; in his solo career with over 32 million albums and 56 million singles, and over 70 million records with NSYNC. He has won 10 Grammy Awards, 4 Emmys, 7 American Music Awards, 9 Billboard Music Awards, and 11 MTV Video Music Awards. He was the youngest member inducted into the Memphis Music Hall of Fame in 2015. In 2014, he was named Billboards Top Male Artist; he is ranked #25 on Billboards Top 60 Male Artists of All Time, which leads most music critics to refer to him as the "Prince of Pop." Most recently, you can find him mentoring students at Stax Music Academy where he funded a creative space called "The Song Lab" for students interested in songwriting and production.