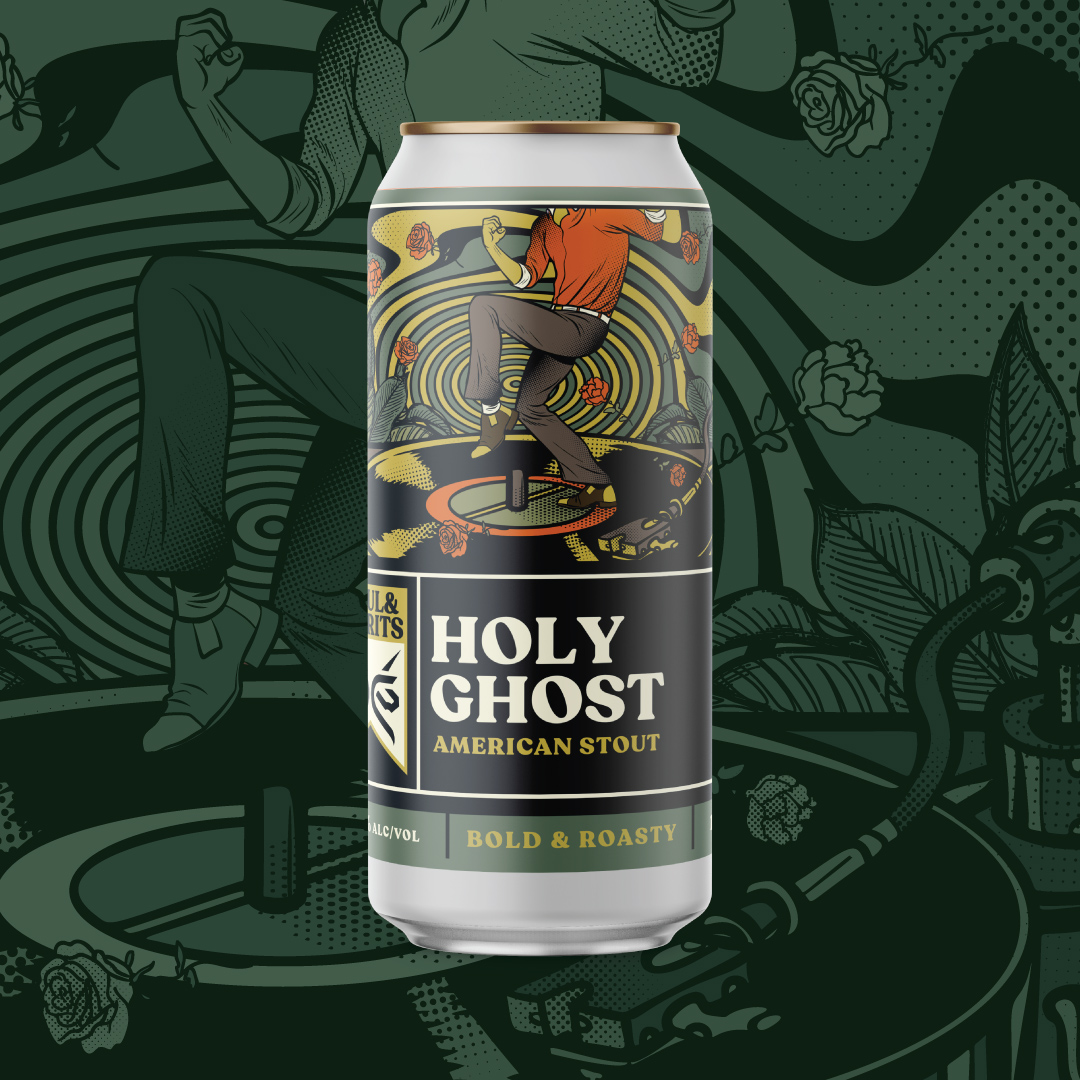 Holy Ghost
American Stout
|
6.0% ABV
Our American Stout is everything you want in a stout; robust, roasty and resinous. A dark, hoppy ale that is perfect for the start of the winter season.  Stouts have been around since the time of the London Porter, often called a "stout" because it was stronger than a Porter. Irish brewers took claim to the Stout with their Dry Irish Stout and Export Stouts, and then American brewers adapted these styles to be a little stronger. Our stout has no additives, we wanted to just showcase this style in all of its of glory, a woody aromatic ale with lots of piney flavors, strong espresso and hints of tropical fruits underlying within in the dark malts. This version of the stout style really got started in the west, where hoppy ales reigned supreme, they are fairly hop forward, but not as hoppy as the Black IPAs, that were also born in this region. Holy Ghost will have you shakin' in all your bones and set your soul on fire, but only available during the winter months, so come grab yours on tap or in cans to-go and enjoy with your love a second time.
Food Pairings: Pot Roast • Aged Gouda • Blackberry Ice Cream
---
Inspired by "Holy Ghost" The Bar-Kays
Recorded at STAX Studios, 1972-1975
The Bar-Kays were a funk group originally formed during high school in the 1960s in  Memphis. They got their start as one of the house bands for STAX records performing on other well known STAX artists' albums such as Isaac Hayes and Otis Redding and were mentored by Booker T. & the MGs. Otis Redding personally picked them to be his touring band in 1967. The band would come to a tragic end, when their plane crashed and killed 5 of the eight original members, along with Otis Redding. The one surviving member of the crash, Ben Cauley, along with the other 2 members would go on to recreate the band with new members. "Holy Ghost" was recorded before the collapse of STAX Records in 1975, and released from the new owners of STAX Records, Fantasy Records, on the MONEY TALKS album in 1978. This album was one of their highest chart toppers at 21 on the Billboard Soul Chart and #9 on the Soul Singles Chart.
In 2013, the group was inducted into the Memphis Music Hall of Fame.