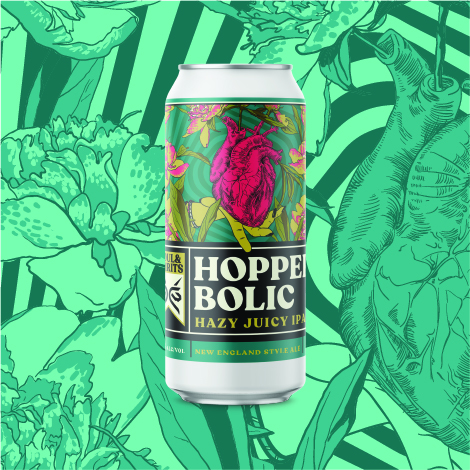 HopperBolic
Hazy Juicy IPA
|
6.7% ABV
Inspired by "Hyperbolicsyllabicsesquedalymistic" Issac Hayes
Our Hazy IPA is our nod to the New England Style of hazy, juicy IPAs that have become a fan favorite. Hopperbolic is generously hopped to bring out the best of our hand selected hop blend. Ripe stone fruit and a medley of citrus emanate from your glass, then you take a sip that is bursting with vibrant flavors of mango, tropical sherbet ice cream and candy like sweetness. It ends with a gentle, rounded bitterness and a lush, pillowy mouthfeel. Stop procrastinating and wrap your phalanges around your glass for a cerebral experience!
Food Pairings: Jerk Shrimp • Gorgonzola Dolce • Lobster Roll
---
"HYPERBOLICSYLLABICSESQUEDALYMISTIC" Issac Hayes
Recorded at Ardent Studios, 1969
This ten minute funk number was on Issac Hayes' groundbreaking Hot Buttered Soul album. He was best known at the time as a songwriter and arranger for Stax Records. Hot Buttered Soul contained just four tracks and was a complete breakaway from the standard three-minute song format. Hayes explained to Rolling Stone in February 1972: "I felt like what I wanted to say, I couldn't say it in no two minutes and 30 seconds, because I wanted to speak through the arrangement, I wanted to speak through singing, I wanted to speak through actual monologue. I cut that record with all the freedom in the world and it was a beautiful release for me." The song title is surprisingly frequently misspelled, even on the album cover, the backup singers are clearly singing "-nistic." The song's lyrics, by Hayes and Stax Records Executive Al Bell, poke fun at those who use big words unnecessarily, in this instance when re-wooing a lost love through high-minded compliments. The musicians include the Bar-Kays' bassist James Alexander and drummer Willie Hall (later of The Blues Brothers Band).