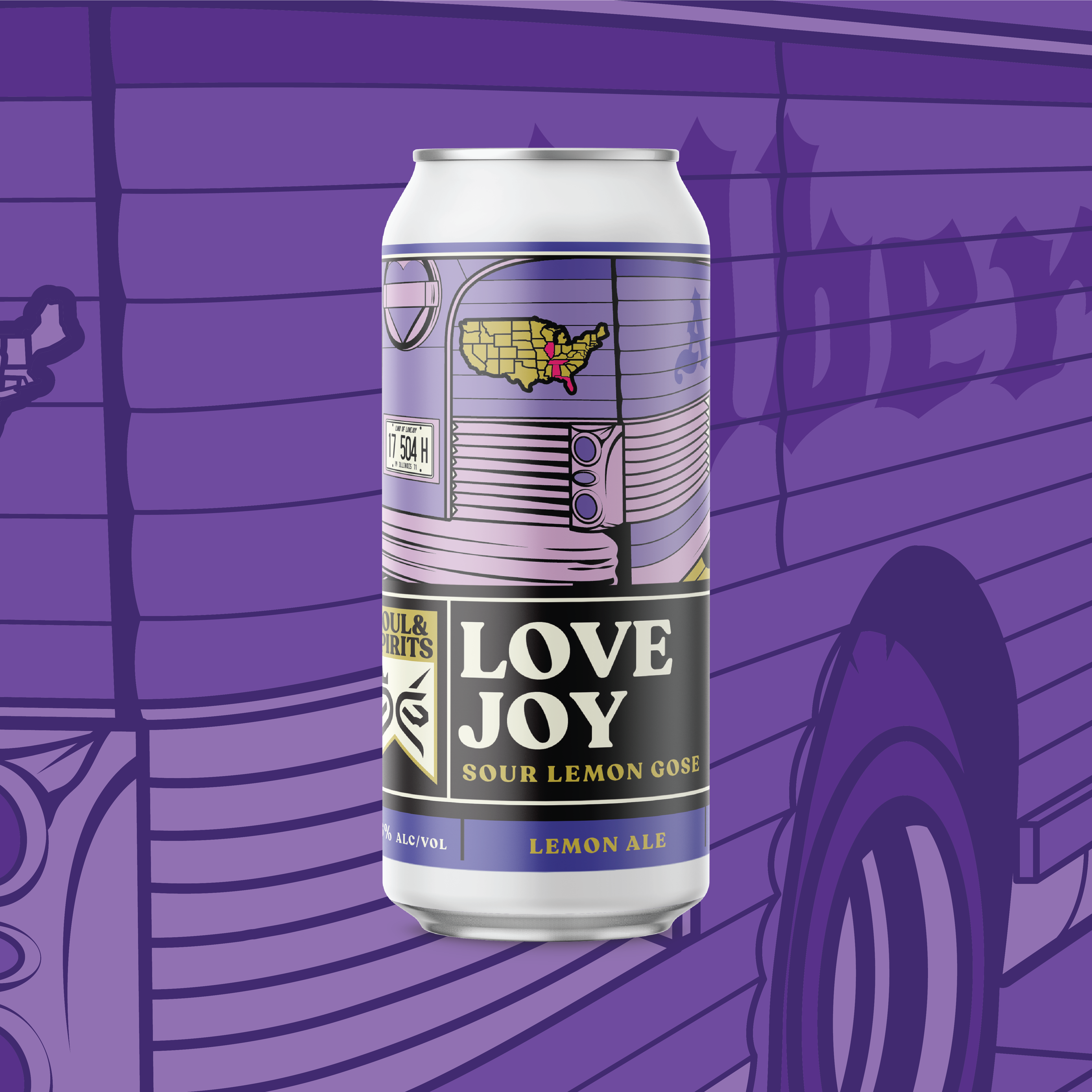 Love Joy
Sour Lemon Gose
|
4.6% ABV
Inspired by "Lovejoy, Ill." Albert King
Our Sour Lemon Gose (pronounced like the name Rosa); a tart wheat ale originating from Germany, that is combined with lots of lemons to create a nice, refreshing spin on lemonade. These beers have an interesting history and can be traced all the way back to the late 1300s!  Goses all but died out until a few decades ago and have seen a resurgence, especially from craft brewers in the states. A gose is brewed with coriander and salt, the coriander here boosts the citrus punch of the added lemons, making this a very tart ale. Love Joy tastes like a salted lemon shortbread being eaten at the beach with the fresh salty sea breeze whipping through your hair. Love Joy is reminiscent of kids lemonade stands, but with a little salty kick. Made to bring people together and share with your neighbors, like Albert King says "everybody should have love in their heart" so sit back, enjoy the summer, take a sip and spread the love.
Food Pairings: BLT • Goat Chèvre • Watermelon
---
"Lovejoy, Ill." Albert King
Recorded at Skyhill Studios & Muscle Shoals Sound, 1970-71
Albert Nelson (King) was born on a cotton plantation in MS, in the same town as B.B. King, he often told people he was the half brother of him, but B.B. King later just told everyone that he wasn't a "blood brother but a brother of the blues." Albert got his start playing  in Osceola, AR, then moved around to a few of other places before settling down in Memphis and got his real big start with STAX records. Nicknamed as "The Velvet Bulldozer" Albert was known for his deep, dramatic sound that would be emulated by future blues and rock guitarists, such as: Jimi Hendrix, Derek Trucks, Stevie Ray Vaughn and even Eric Clapton. The album, LOVEJOY, which is most notable for his cover of "Honky Tonk Women" contains the song "Lovejoy Ill." which is the nickname for one of the towns he played music in Illinois. The album sees King moving into a more funky blues genre. It was also produced by Memphian and fellow musician, Don Nix. Although, the album may not have produced any chart topping hits, it remains a highly sought after album for King collectors.