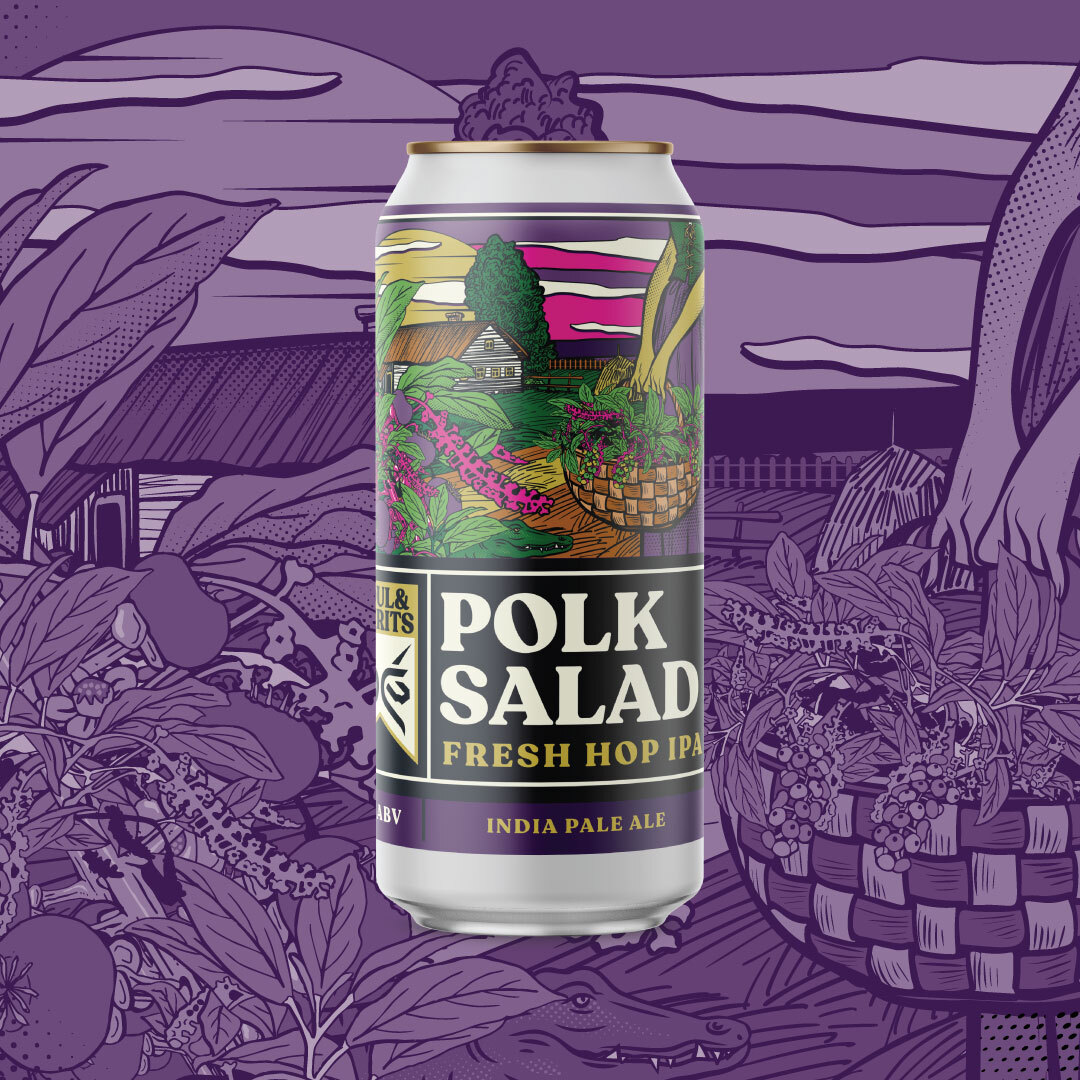 Polk Salad
Fresh Hopped IPA
|
6.1% ABV
Our Fresh Hopped IPA, Polk Salad, is brewed in the traditional style of a hazy IPA, and we loaded it with even more generous amounts of fresh hops late in the brewing stage to keep all of that fresh hop goodness. A fresh hop ale is different from traditional IPAs in that instead of using kiln dried hops, we throw in fresh hop cones and a new product from Yakima Chief, called Cryo Fresh Hops. This is where they concentrate the oil glands and freeze dry them, in the same process as fresh blueberries. We get this new product, along with Citra and Mosaic hops overnighted from the hop farms in the Pacific Northwest, because you have to use them within 24 hours of harvest. Polk Salad is even more special here at Soul & Spirits, because we also used Cascade hops grown right here in Memphis in our Master Brewer's backyard! This ale is bursting with aromas and flavors of ripe stonefruit, sweet candy, fresh cut grass and has a very gentle bitterness. We picked a whole mess of hops to make this once a year beer, so come grab a pint or take some cans to tame the gators on your way home.
Food Pairings: Chili • Camembert • Fried Salmon
---
"POLK SALAD ANNIE" Tony Joe White
Recorded RCA Studio B Nashville TN, 1968
Written and recorded by Tony Joe White, the song is a swamp rock tune with influence from the Blues, R&B and Cajun music; it would chart in 1969 at #9 on Billboard Hot 100. He grew up on a cotton field west of the Mississippi River in Louisiana, and wrote the song based on his real upbringing and sometimes having to eat pokeweed, or poke, which is a cooked greens dish. He first heard Bobbie Gentry's "Ode to Billie Joe" on the radio and could relate to how real the lyrics were and he knew he could write real music that recalled the life he lived in the swampland of LA. It would also be made famous as a cover by Elvis Presley in 1970. It was also covered by over a dozen other artists, including Johnny Cash, Tom Jones and the Foo Fighters. Often referred to as "the Swamp Fox," he spent five decades as a performer and song writer and wrote big hits for Tina Turner, Ray Charles, Waylon Jennings, Willie Nelson, and Dusty Springfield.