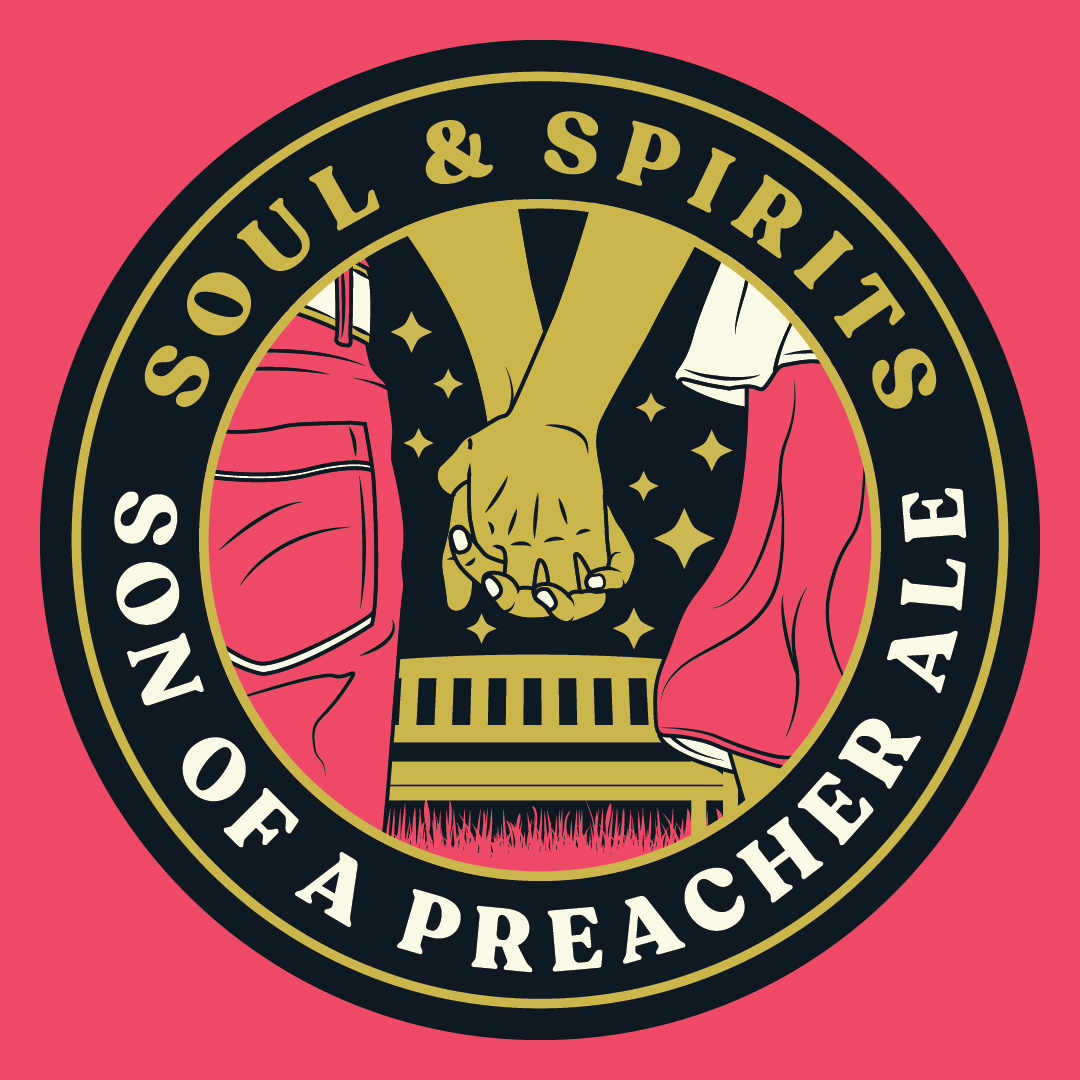 Son Of A Preacher Ale
Fresh Hop Black Ale
|
4.0% ABV
Inspired by "Son Of A Preacher Man" Dusty Springfield/Bobbie Gentry
Our  next cask rotation offering is a Fresh Hop Black Ale. We took two of our favorite IPA styles: a Black IPA and a Fresh Hop IPA; and combined the two to make a brand new collaboration of a style, but served old school in a cask. Son Of A Preacher Ale is brewed with dark malts to give rich color and a gentle supportive chocolate flavor, think chocolate babka, with its yeasted bread layered with a fudge ripple. We also used our fresh Cascade hops grown in our Master Brewer's back yard, in combination with the Simcoe Cryo Fresh hops from the Pacific Northwest. The flavors and aromas in this ale, apricot jam, charred pineapple, along with pine and slight citrusy notes, are even more accentuated by being served slightly warmer than typical draft. Only available once a year in the taproom, during the fresh hop season, it will start sweet talking to you, so come on down and reach out for a fresh hand pulled ale.
---
"SON OF A PREACHER MAN"
Dusty Springfield, American Studios, 1968
Bobbie Gentry, Columbia Recording Studio, 1969
Written by John Hurley and Ronnie Wilkins, in mind originally for Aretha Franklin, but producer, Jerry Wexler, who was recording Dusty Springfield's album at the time, liked it and suggested she record it for her album, DUSTY IN MEMPHIS. The single was an international hit, peaking at #9 UK Singles Chart and #10 on Billboards Top 100. For, DUSTY IN MEMPHIS, Springfield was backed by The Sweet Inspirations and The Memphis Boys. In 2020, the album was selected by the Library of Congress for preservation in the National Recording Registry. Aretha would go on to release her version a year later for her sixteenth studio album, THIS GIRL'S IN LOVE WITH YOU, in 1969. Springfield's version was honored with #43 on the Greatest Singles Of All Time and listed in Rolling Stone's 500 Greatest Songs Of All Time.Bobbie Gentry released her cover version of this song in 1969, on her fifth studio album, TOUCH 'EM WITH LOVE. This album was designed to cross over into the pop realm for Gentry from country-folk singer songwriter, and only included two penned originals. She would release two more albums before retirement in 1980, one being her biggest claim to fame, FANCY.