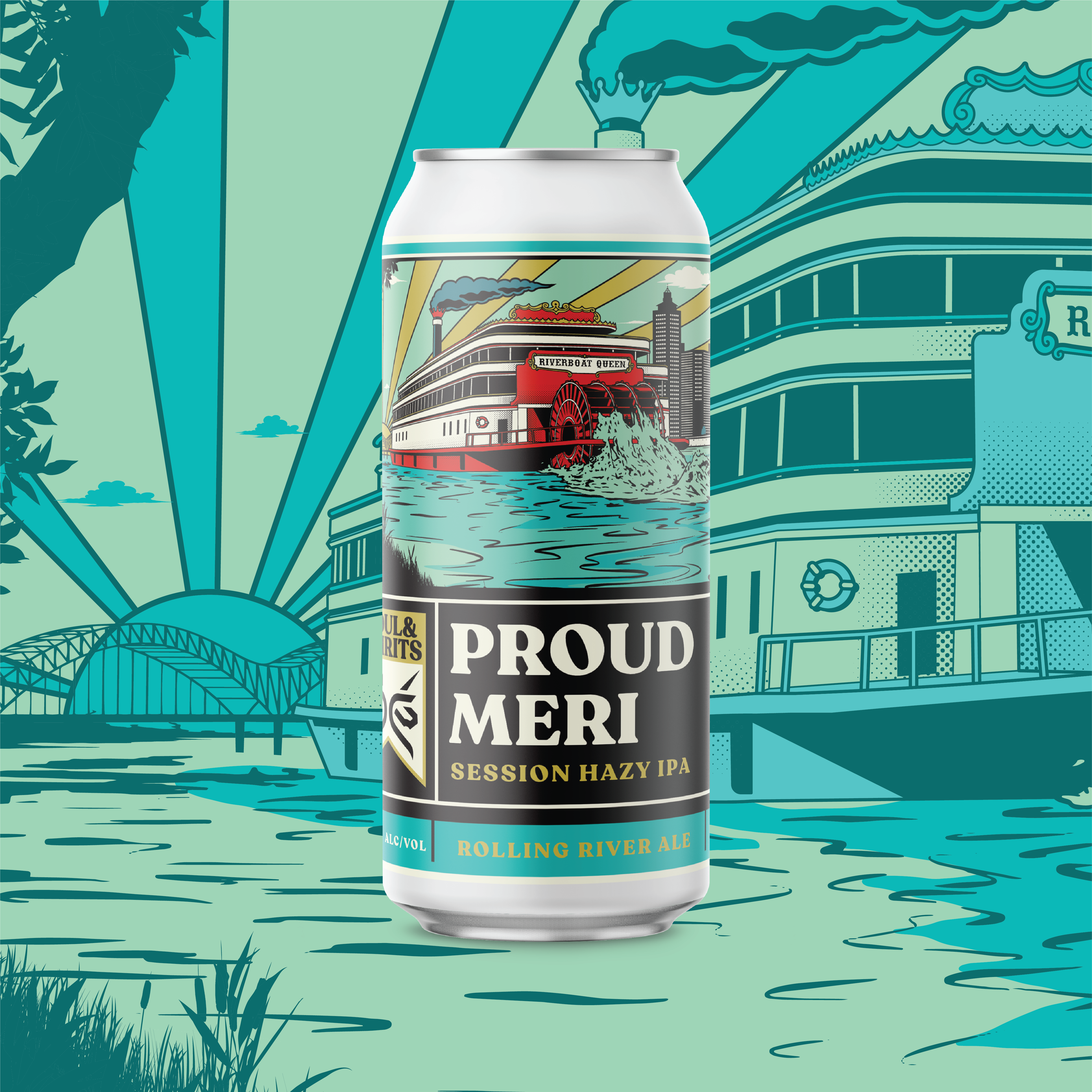 Proud Meri
Session Hazy Pale Ale
|
2.9% ABV
Inspired by "Proud Mary" Tina Turner
Our Session Hazy Pale Ale is a quenchable beer that packs a lot of flavor without a lot of alcohol. Session beers are considered anything under 4-5 % ABV. You have probably noticed that we have quite a few offerings that are around that ABV or even lower, but what makes this beer so special is it clocks in at 2.9% ABV! Proud Meri features Meridian hops to give wonderful citrus qualities, like Meyer lemons and a refreshing hint of mint creating a crushable everyday drinker. We leave this one hazy with a subtle and light malty backbone. A great beer to enjoy on a very hot day, or when you want the flavor of a pale ale without all the alcohol.
Food Pairings: Margarita Pizza • Pepperjack Cheese • Sorbet
---
"PROUD MARY" Tina Turner
Recorded at Bolic Sounds Studios, 1970
During the 1960s, at the height of the Rock 'n' Roll era in Memphis, a deck hand on the Memphis towboat MARY ELIZABETH wrote and composed a song he entitled, 'Proud Mary.' The song describes his feelings and experiences, his life and times aboard the ship. The song was published and recorded by John Fogerty of Creedence Clearwater Revival, going on to place #155 on Rolling Stone's  list of The 500 Greatest Songs of All Time. Ike & Tina Turner released their cover of Creedence Clearwater Revival's 'Proud Mary' as the second single from their 1970 album Workin' Together. Their rendition differs greatly from the structure of the original, but is also well-known and has become one of Tina Turner's most recognizable signature songs. The song starts off with a slow, sultry soulful tone in which Tina introduces the song and warns the audience that she and the band are gonna start it off "nice and easy" as "we never do nothing nice and easy" but said they would finish it "nice and rough". After the lyrics are first sung softly by the Turners, the song is then turned into a funk rock vamp with Tina and the Ikettes delivering gospel-influenced vocals.