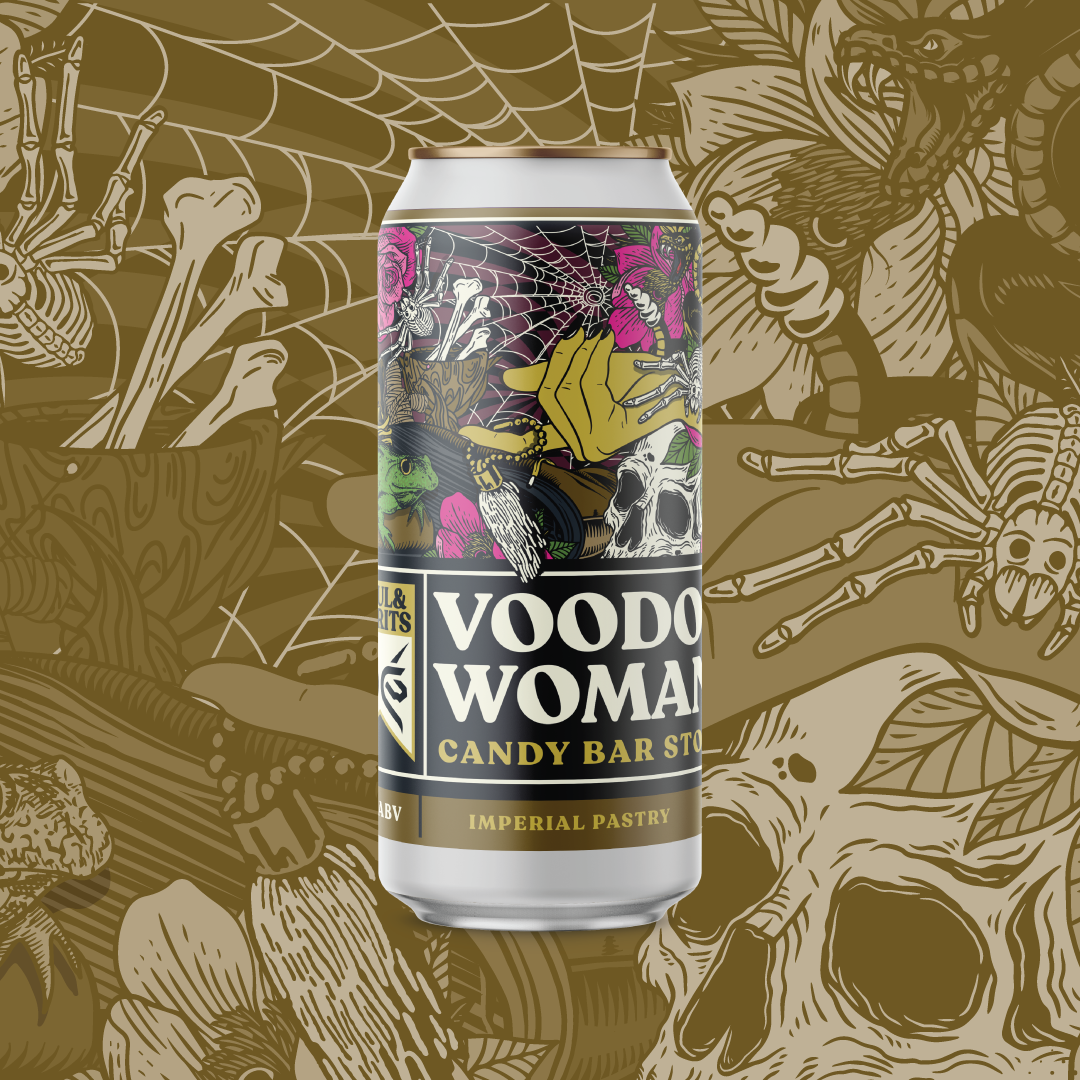 Voodoo Woman
Candy Bar Pastry Stout
|
9.5% ABV
Inspired by "Voodoo Woman" Koko Taylor
Our Candy Bar Pastry Stout hits all the big Imperial Stout marks that you want out of a big beer, at 9.5% ABV this ale is sure to make you reminisce about your favorite childhood candies. Loaded with an insane amount of toasted and un-toasted coconut chips, cocoa nibs, and vanilla beans to enhance the flavors of a dark chocolate coconut candy bar. A creamy, chewy complexity gives the illusion that Voodoo Woman is indeed inspired by candy and leaves your tastes buds longing for that next sip. Don't miss out on this spooky season ale, or sadly you'll have to wait until next year for this boozy candy bar stout.
Food Pairings: Braised Beef Short Ribs • Langres Cheese • Salted Mixed Nuts
---
"Voodoo Woman" Koko Taylor
Recorded at Sound Studios, 1975
Koko Taylor, was born Cora Anna Walton, on a farm near Memphis in 1928. She grew up singing in church but the blues was what she was born to sing, imitating the blues men around her; B.B. King, Elmore James, Howlin' Wolf, and Sonny Boy Williamson. She would earn the title of the "Queen of the Blues" when her blues singing career started in Chicago in the 1950s. I GOT WHAT IT TAKES, would be her first album to record with Alligator Records after two records with Chess. She hand selected the artist for the album, including Mighty Joe Young, Sammy Lawhorn and Abe Locke. "I Got What It Takes" would be the biggest hit from the album, with "Voodoo Woman" and "Mama, He Treats Your Daughter Mean" releasing as singles. She released 9 albums with Alligator and 8 of them were nominated for Grammys. She is one of the most decorated female blues artists. She was nominated 32 times with 29 wins for the Blues Music Award (previously the W.C. Handy Award) in the following categories: Entertainer of the Year, Female Artist, Song of the Year, Traditional Blues Album, Traditional Blues Female Artist, and Vocalist of the Year. She won a Grammy for Best Traditional Blues Album in 1985. She was inducted into the Blues Hall of Fame in 1997 and was awarded the Blues Foundation Lifetime Achievement Award in 1999. She continued performing up until she died from complications from surgery in 2009.